The Foundation has met the needs
for 7 of the top 9 languages utilized
on the World Wide Web
COMING SOON...... RUSSIAN
The Foundation now serves over 72% of Internet users worldwide
Source: http://www.internetworldstats.com/stats7.htm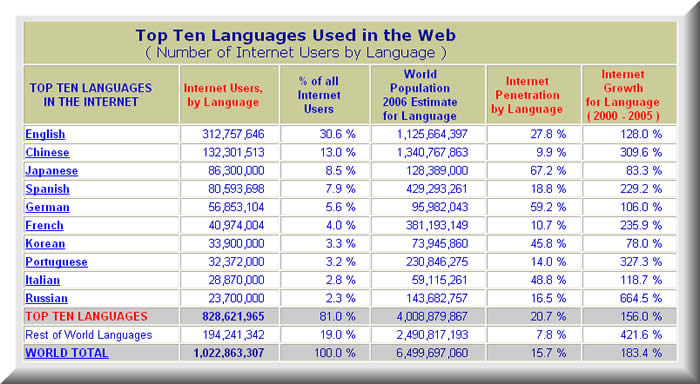 .
NOTES:

(1) Internet Top Ten Languages Usage Stats were updated on March 31, 2006.

(2) Internet Penetration is the ratio between the sum of Internet users speaking a language and the total population estimate that speaks that specific language.

(3) The most recent Internet usage information comes from data published by Nielsen//NetRatings, International Telecommunications Union, Computer Industry Almanac, and other reliable sources.

(4) World population information comes from world-gazetteer.com.

(5) For definitions and navigation help, see the Site Surfing Guide.

(6) Stats may be cited, giving the source and establishing an active link back to InternetWorldStats.com. ©Copyright 2005, Miniwatts Marketing Group. All rights reserved.
~ ~