John Bomhoff is a Midwest-American voice, with more than 15 years' experience narrating for radio, television, and 100s of multimedia projects.


He narrated all the NASA astronaut and maintenance training programs, completed dozens of projects for PBS and projects for a large portion of the Fortune 500. He offers voice work in English, Spanish, and German, but, hopes to expand the nationalities in the future.

John works totally online out of his own studio in Florida.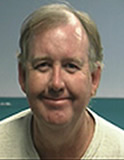 We thank John Bomhoff for his generous support of the Foundation's mission towards education and research.
Return to list of Honorary Donors
The International Research Foundation for RSD / CRPS is a
501(c)(3) (not-for-profit) organization in the United States of America.

Copyright © 2005 International Research Foundation for RSD / CRPS.
All rights reserved.
For permission to reprint any information on the website, please contact the Foundation.