Free 2-Hour Video:
Use of Opioids (Narcotics) to Treat Reflex Sympathetic Dystrophy (RSD / CRPS) in Adults and Children

The following video requires the free Microsoft Media Player.
If you do not have it, download it here: Microsoft Media Player

CONTENTS
Introduction Time Code: Zero
Adverse Effects Time Code: 8 minutes
Addiction Time Code: 40 minutes
Use in Children Time Code: 1 hour, 3 minutes
Take Home Message Time Code: 1 hour, 26 minutes
Questions & Answers Time Code: 1 hour, 42 minutes

For a transcript of the video, click here:
The Foundation has available a 2-hour VHS videotape of the live symposium for a donation of $100. All proceeds go to the RSD Research Fund.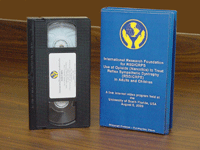 Click image to view a larger picture

The videotape is available at info@rsdfoundation.org or phone 813 907-2312 in the USA



The content of this program was developed independently by contributing international faculty from Sweden, Germany and from universities throughout the United States. We thank JANSSEN Pharmaceutica for supporting this post-production video project with a generous educational grant.
HOME | MENU | CONTACT US
Copyright © 2003 International Research Foundation for RSD / CRPS.

All rights reserved.
For permission to reprint any information on the website, please contact the Foundation.


~ ~