On August 6, 2003, the Foundation held a
live and interactive Internet video program on RSD / CRPS
on the campus of the University of South Florida. Anyone in the world with a PC and modem
could participate for free. The symposium focused on the use of opioids (narcotics) to treat RSD in
both adults and children and was witnessed by a worldwide audience composed of physicians,
researchers, and health professionals through the use of a new Internet technology.
The program was developed independently by contributing international faculty from
Sweden, Germany and from universities throughout the United States.
We thank JANSSEN Pharmaceutica for supporting this project
with a generous educational grant.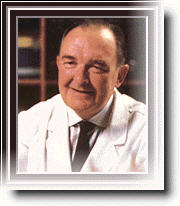 Dr. Paul Janssen
Since its founding in 1953 by Dr. Paul Janssen
- a prominent researcher, pharmacologist and physician-
Janssen has been firmly grounded in science and the search for innovation.

Return to list of Honorary Donors

~ ~

The International Research Foundation for RSD / CRPS is a
501(c)(3) (not-for-profit) organization in the United States of America.

Copyright © 2005 International Research Foundation for RSD / CRPS.
All rights reserved.
For permission to reprint any information on the website, please contact the Foundation.