My RSD Nightmare
..... video below
I was working on the day of June 26, 2007 and was typing at work when I felt extreme pain in my left wrist. I looked down and noticed that my wrist, hand, and fingers were swollen.
I didn't think too much of it, but when I woke up the next day, it was even worse. I was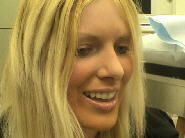 off that day from work and decided to go to the Doctor. He didn't have a diagnosis, but could tell the seriousness of my injury. He prescribed pain medication and told me not to go back to work.
The following day, I went into the office early to talk to my supervisor and the Human Resources Department and show them my Doctor's note telling me not to work.
The HR Department told me to go to their worker's comp doctor for a diagnosis. He sent me to a couple of other doctors, none of which could give me a diagnosis.
During this time period, my wrist had atrophied and my fingers and wrist were pointed downward at almost a 90 degree angle. I had to keep gauze and an ace bandage on it because it had become so sensitive to the slightest touch. It became so bad that a drop of water or a slight breeze felt like someone was stabbing me over and over again, continuously.
The first Orthopedist I saw through worker's comp told me it was in my head and suggested I go see a psychiatrist. I asked him what would cause it to be so sensitive to the touch and why I couldn't move it at all and he had no answer. (He was a real brilliant one!)
At this time, my fiancé and I became very frustrated. It had been two months, numerous X-rays, an MRI, numerous trips to different doctors, and I was getting worse by the day.
I was running out of the pain medication that the first worker's comp doctor had prescribed and he wasn't available, so I went back to my Primary Care Doctor who upon seeing my wrist and hand again couldn't believe I was still in this condition. He did more X-rays and realized that there was significant bone loss due to the injury.
He recommended that I go to an orthopedist/hand surgeon who his son had seen for a different type of injury to his hand. He gave me the information and I called to make an appointment, but the earliest appointment available was over a month away. I informed my Primary Care Doctor that I made an appointment with the doctor he had recommended, but I had to wait about a month. The following day, my Primary Care Doctor called me and told me that he called the Orthopedist himself and got me an appointment the very next day.
As soon as I saw this Orthopedist/Hand Surgeon, he asked me to unwrap my bandage and immediately diagnosed it was RSD. He was shocked to see the severity of the problem. This was the first doctor who had ever mentioned the RSD. He was appalled by how I was treated by the original Orthopedist, (who worked for the same practice in a different office). He was also unsatisfied that it had remained untreated for this long. (3.5 months).
At this point, I was unable to care for myself. I couldn't shower, dress myself, cook, or even drive.
The Hand Surgeon suggested I see a pain management specialist, which I did, and he concurred with the diagnosis of RSD and started me on medications. We went through what seemed like dozens of different medications. After a few weeks of medications, we did a series of stellate ganglion blocks. The second block seemed to make my RSD even worse and it felt like it was spreading further into my body. Even though the blocks were performed correctly since I had the change in temperature and the droopy face, the signal that the blocks worked, I still received absolutely no pain relief.
I then had an epidural done in my neck to see if my previous neck injury was causing the pain, but it didn't help either. The next option I was recommended to try by this doctor was a spinal stimulator.
I was really losing hope of getting better at that point. My fiance, Jim, felt my frustration as he was also feeling frustrated and a loss of hope. We both began to feel helpless in the fight against RSD but knew that this was no way to live life (as other than doctor's appointments I was housebound) so Jim kept researching more on RSD treatments.
I did research a lot online when I could stand the pain and came across the work that Dr. Schwartzman and Dr. Kirkpatrick were doing. A family friend who is a Doctor in New Jersey called Dr Schwartzman's office and tried to make an appointment for me and was told that the first appointment he had available was in April of 2009.
I didn't want to wait that long. After doing more research, I was able to find the contact info for Dr. Kirkpatrick and tried to set an appointment. This was in September of 2007. The new office wasn't going to be open until January or February. This was discouraging, but not as discouraging as waiting until 2009 to see Dr Schwartzman in Pennsylvania.
I saw Dr Kirkpatrick in the middle of March. He sat us down, and spent a lot of time discussing the different options. He did some pain threshold tests and confirmed that the RSD was spreading to the whole left side of my body, including the face. We talked about the spinal stimulator and how it could be a possible treatment, but because the RSD had spread, the likelihood of it working was so slim that it was not a viable option. We also talked in detail about the Ketamine Coma Study and the two-hour / three-day High Dose Ketamine Treatment. We talked about the pros and cons of all the treatments and decided to try the three day ketamine treatment.
I was very hopeful at this point.
I suffered an exacerbation of pain and a few weeks later, I had the 3 day treatment. When I regained lucidity after each treatment, I felt achy all over my body and didn't notice any difference in the RSD pain. I found it extremely difficult to talk at a normal volume for a few days, as my throat was very sore. I went back home and still after 2 weeks, hadn't noticed any positive changes, although there is a possibility that it could have been worse if I hadn't had the treatment because I was rapidly deteriorating when I began the treatment with ketamine.
Since I had not had any negative reactions to the ketamine, Dr Kirkpatrick recommended that I consider the ketamine coma procedure.
After the 3 day ketamine treatment, I am unable to walk by myself, nor get up from a seated or laying down position by myself in addition to the other inabilities listed above. I cannot even type one handed myself anymore. (My fiancé typed this for me).
The medications I went through included hydrocodone, percocet, darvocet, oxycodone, tramadol, lyrica, neurontin, avinza and possible a few others.
As of this writing, I am taking 60 mg of Kadian twice per day, 200 mg of Celebrex, twice per day, 200 mg of Lyrica 3 times per day, Gabitril for sleep 6 mg once per day and Klonopin 1 mg once per day.
I feel that I have exhausted all other possible remedies or treatments to get rid of this disease. I still feel excruciating pain every minute of every hour of the day. I am lucky to sleep a few hours per night. I still cannot have the sheet over my wrist or arm and if the sheet touches the rest of the left of my body, it hurts, but not as badly as if I didn't have the sheet on, because I would be shivering from the cold. I have to keep the house temperature at about 68 degrees to remain somewhat comfortable. I do switch between being hot and cold, but I am mostly hot. Prior to this disease, I was always cold. I always wore a jacket, even in 90 degree weather!
I feel like the ketamine coma study is my final hope for relief from this disease.
I am looking forward to getting my life back.
RSD Sucks.
Lindsay Remington
As Told To Jim Smith
Orlando, Florida USA
April 15, 2008